---
Pretty Little Sofa Covers Perfect Fit Universal Sofa Cover! 😍 A Fresh, New Look for Your Home ✨
REPURPOSE THE FURNITURE THAT YOU ALREADY OWN AND LOVE! PRETTY LITTLE SOFA COVERS UNIVERSAL SOFA COVER!
WHEN THESE 1000 ITEMS SOLD OUT, WE WILL RESTORE THE ORIGINAL PRICE OF USD$59.98!!!
Limited time for 24 hours $49.99, restore the original price after 24 hours. 
🤩 MAGICAL FIT SOFA COVERS!
#1 | Premium Quality | Waterproof |Pet Friendly | Machine Washable
✅Easy to install. ✅Easy to replace. ✅Easy to wash.
Not Sold In Stores… 
The Trendiest Sofa Covers on SALE!
Give New Life to Your Living Room by Revamping Your Sofa with a Pop of color!
Get several more years out of your sofa or until it actually breaks down before having to buy a new one.
With 100% Satisfaction! 
✅Premium Quality |✅Waterproof| ✅Pet Friendly | ✅Machine Washable 
BENEFITS:
✅Protect Your Furniture-  This easy-to-use and attractive slipcover will keep your couch clean, and free of stains. It's perfect for homes with small children and pets, or anyone searching for an affordable solution to a clean, new look or furniture protection.
✅Perfect Fit- The seamless, non-slip design ensures that your sofa is completely covered. It's quick and effortless to install and take off.
✅Neutral Colors- Available in a large variety of neutral colors that are sure to match any room in your home.
✅Easy Care- Machine washable for easy care and maintenance, wash separately in cold water, on the gentle cycle, do not use bleach or iron
SIZE GUIDE: 

Before ordering, we recommend you measure your furniture to determine the right size. Applicable sofa: Armless sofa, Armrest sofa, L-shaped sofa, Sectional sofa. PLW Family recommends the 4 Seater is to fit all sizes. :) 
1-seater: the length of the sofa (red line) should be 35-55in ~ 90-140cm
2-seater: the length of the sofa (red line) should be 57-73 in ~ 145-185cm
3-seater: the length of the sofa (red line) should be 73-91in ~ 195-230 cm
4-seater: the length of the sofa (red line) should be 92-118in ~ 235-300 cm
Cushion cover: 17x17in ~ 45x45cm 
For L-Shape and Sectional Sofas
For L-shaped, Corner, or Sectional sofas that combine 2-3 separate parts, you need to order 2-3pcs covers. The size of each cover will depend on the length of AA, BB, and CC lines. For example: If AA=75in cm and BB=60in, CC=40in then you should go for 1pc 3-seater cover + 1pc 2-seater cover + 1pc 1-seater cover.
For Recliner sofas, please go to our Recliner slipcover product page in the Home Décor Product Collection.
Installation Guide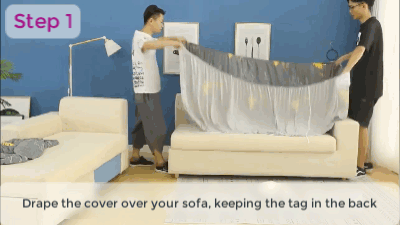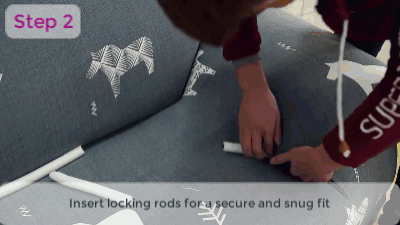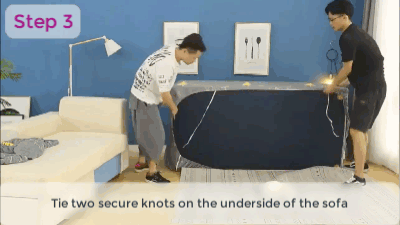 Improve your living space and give your home an upgrade with our family-friendly and easy-to-clean design. 

PERFECT FIT - TO OVER 99% OF HOME SOFAS!
HOW TO INSTALL
Please measure your sofa carefully, including the armrest, and then choose the correct size for a satisfying purchase.
Step 1. Extend the sofa cover (Position the slipcover over the sofa with the label at the back.
Step 2. Cover the sofa in the right direction.
Step 3. Let the sofa hold down the four corners.
Step 4. Put the foam rolls into the gaps on the sofa tucking them deep down under securely.
Step 5. Put the sofa down and pull the cover tight, pulling any excess fabric to the back.
Step 6. If the sofa cover does not fit your 2 or 3 seaters, you might need a bigger size. It doesn't hurt to have a big size we recommend you order a bigger size, so you have enough fabric to use for tucking under.

NOTES
1. If you having trouble finding the right size. You can contact us 24/7 from our live chat on Facebook or email help center support@prettylittlewish.com
🌸Find Your Favorite Designs 🌸
 
CARE INSTRUCTIONS
Don't miss this great deal to get an awesome (almost brand-new) looking sofa in seconds !!!
Add to Cart your favorite color! 
PACKAGE INCLUDES
1pc sofa cover and FREE foam sticks; not including pillowcase. 
(Add your favorite pillowcase option - 2pc cushion covers to your cart separately for a perfect living room).
**LIMITED ITEMS AVAILABLE IN STOCK & NOT SOLD IN STORES**
CLICK ADD TO CART TO SECURE YOUR 50-70% DISCOUNT NOW!!
*** We are improving our products to meet all the needs of our beloved customers. Our slipcovers can be applied to most types of sofas. For recliner slipcovers, 
Customer Photos
100% Satisfaction Guaranteed With Every Order. 

ABOUT OUR PRODUCTS
✅ HIGH-QUALITY MATERIAL: 20% spandex+80% polyester, high-quality stretchy fabric, soft and comfortable

✅ DIMENSIONS: Sofa slipcover :fit seat width 66-90 in. More details please refer to the measurement guide in the photo, please measure before purchasing
✅ FURNITURE PROTECTOR: Protect your sofa from daily wear and stains. Various colors are prepared, you can choose the color you like to cover

✅ EASY TO INSTALL: Check the installation guide carefully, it can be finished within 10 minutes by one person.

✅ PACKAGE: One-piece slipcover with multiple anti-slip foams to slip inside the perfect fit.

✅ EASY CARE: Machine washable, wash at a temperature around 30 degrees Celsius, mild laundry detergents are advised, please do not bleach,do, not iron
BREATHABLE SOFT PLUSH WATERPROOF MATERIAL